Online & Hybrid Learning
Hybrid Learning / Aprendizaje Híbrido
Southwark School is now open for hybrid learning. Students who chose Hybrid Learning will attend school in person two days per week and engage in digital learning three days each week.
Dismissal Schedule
Kindergarten dismissal is at 2:45pm.
1st & 2nd grade dismissal is at 3:00pm.
3rd, 4th, and 5th grade dismissal is at 3:05pm.
6th, 7th, and 8th grade dismissal is at 3:09pm.
La escuela Southwark ahora está abierta para el aprendizaje híbrido. Los estudiantes que escogieron el Aprendizaje Híbrido asistirá a la escuela en persona dos días a la semana y participará en aprendizaje digital tres días a la semana.
Horario de salida
Kindergarten sale a las 2:45pm.
Los grados 1 & 2 salen a las 3:00pm.
Los grados 3, 4 y 5 salen a las 3:05pm.
Los grados 6, 7, y 8 salen a last 3:09pm.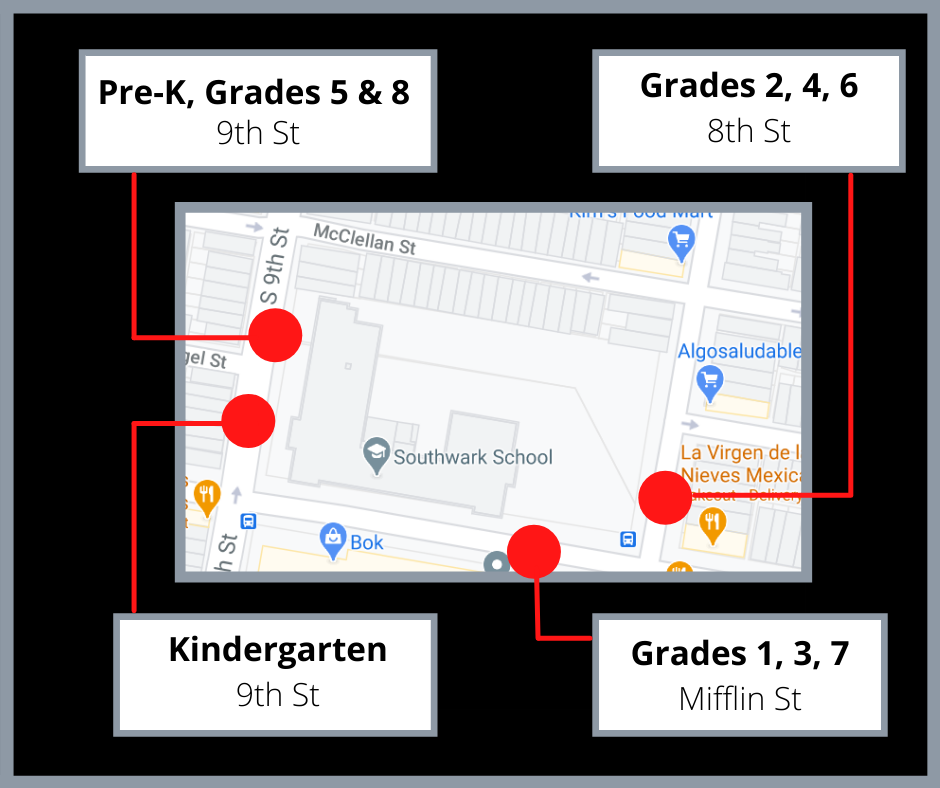 Internet Access



Virtual Classroom Schedules
We will begin the 2020-2021 school year with 100% virtual learning. Your students will have a schedule of classes that they should follow to meet with their teachers and classmates and continue their lessons online. We use Google Classroom for online work, and Zoom for class video meetings – your student's teacher will supply the video room code for your student to enter.
How to Log In
The steppers below will help you set up your Chromebook and log into Google Classroom.
How to set up a new HP Chromebook / Chromebooks HP nuevos: Introducción para padres
How to set up a new Dell Chromebook / Chromebooks Dell nuevos: Introducción para padres
How to use Google Classroom / Google Classroom: Introducción para padres
Technology Help
The District now offers a dedicated telephone support line (215-400-4444) and email (FamilyTechSupport@philasd.org) exclusively for parents and students to help you get your District-issued devices up and running, and to address more basic technical issues with broken or malfunctioning computers.
If you need in-person technology support, the following Technology Support Center is open Monday-Friday from 9am-2pm, and until 5pm on Wednesdays:
South Philadelphia High School
2101 S Broad St, Philadelphia, PA 19148